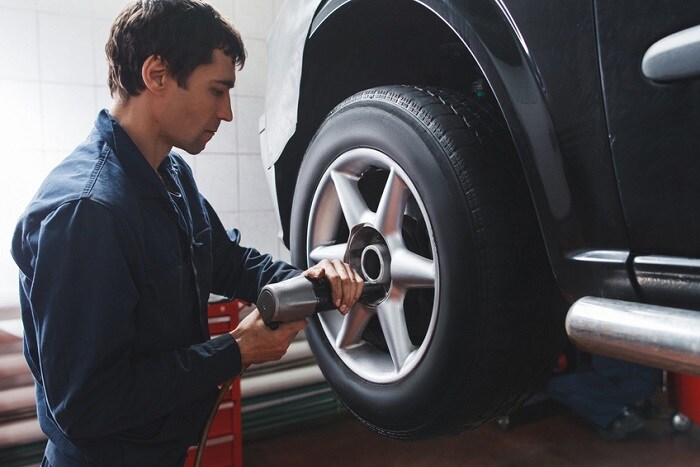 If you've ever marveled at a NASCAR pit stop, where the pit crew installs four fresh tires and fills the tank in about fourteen seconds, give some thought to your Honda car. You probably fill up every few days, but when's the last time you changed those tires? And is it time for a trip to Gillman Honda San Benito?
A stock car doing five hundred miles at Texas Motor Speedway is putting a lot of wear on its tires, especially when you stop to consider that they're averaging just shy of 200 miles per hour at the second-fastest NASCAR track. We hope that you're driving a heck of a lot slower than that in your Honda Civic, but even then you're putting wear on your tires.
The
NHTSA
says your tires should be changed every six years or 50,000 miles, but those are averages. Not sure how long it's been? Next time you're in your driveway or garage, try the penny test. Stick a penny in the treads with Lincoln's head facing down. If the top of his head's visible, you've got less than 2/32 of an inch of tread, and it's time for new tires. Other signs of damage, like side-wall buckling or bulging, or frequent pressure loss, shouldn't be ignored either.
And when you get those new tires, there are two things to make sure of: first, that you're getting OEM-spec tires like the ones you'll find at the parts department of your
San Benito Honda dealership
, and second, that you get them installed at the dealership's
Honda service
center. While you're here, we also suggest asking about our parts and service specials to save a bit of money.
Making sure your tires are good to go is a great first step to being road trip ready. The Honda brand also wants to make sure you have the rest of your checklist all settled. Be sure you test your battery, pack your insurance card, have a pair of new stylish shades, charge up the GPS, and don't forget the snacks!
Old tires are more prone to blowouts and flats. They won't have the same kind of grip or prevent hydroplaning as well. And have we mentioned that you'll also be making more trips to the pump? You rely on your Honda car or SUV for a lot, like road trips across the country this summer, so make sure it can count on you. Visit Gillman Honda San Benito at 1801 Industrial Way for Honda parts and service.