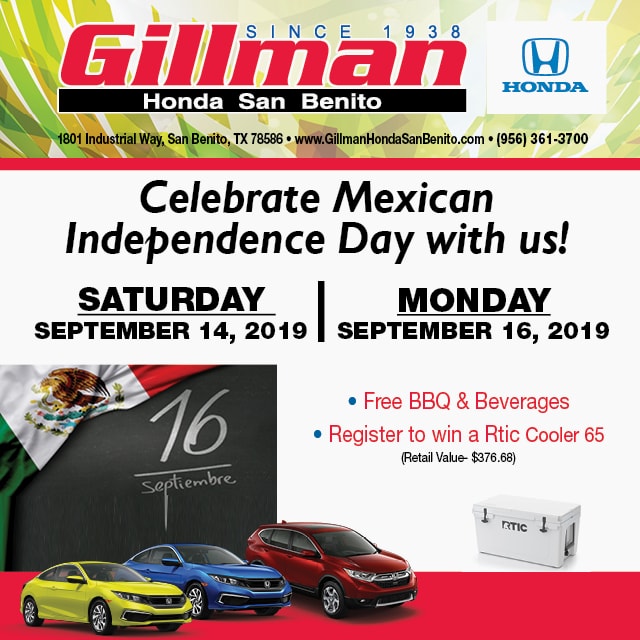 If you've looked through our inventory online or in-person recently, you've probably noticed that we've made some new additions. More specifically, we've added the 2020 Honda Pilot, 2020 Honda Civic, and the 2020 Honda Odyssey to our already extensive inventory.
Just like we're thrilled to add new Honda models to our showroom, we're excited to celebrate Mexican Independence Day. We'll be celebrating all weekend with food, beverages, and fun! Customers can register to win all weekend, and the winner will be announced on Mexican Independence Day.
People who aren't familiar with Mexico's Independence Day sometimes think it's Cinco de Mayo, but that's not the case. Mexican Independence Day is actually on September 16.
That's the date when a Catholic priest, Father Hidalgo, called for Mexico's independence from Spain in a speech he delivered in Dolores, Mexico. Rather than earmarking the date that Mexico gained its independence, the country's Independence Day signifies the moment the insurgency for independence began.
We invite drivers to our Honda dealership near Brownsville to celebrate Mexican Independence Day with us this year. Mexican Independence Day won't be just like other days at our location. To honor the significance of the day, we're going to raffle off an RTIC cooler.
Founded by twin brothers, RTIC Coolers has morphed into RTIC Outdoors in the few years the company has existed. RTIC Outdoors makes products that enhance people's outdoor experiences whether they're tailgating before a big game or venturing into the woods.
RTIC coolers are widely recognized as being the best of the best. Durable, rugged, and able to keep things chilled even in extreme heat, an RTIC cooler is just what you need to keep your drinks, meat, fish, or supplies cold.
Remember to mark your calendar and make plans to celebrate Mexican Independence Day at our Honda dealership near Brownsville, TX. We look forward to giving you a chance to win an RTIC cooler while you celebrate with us at Gillman Honda San Benito!