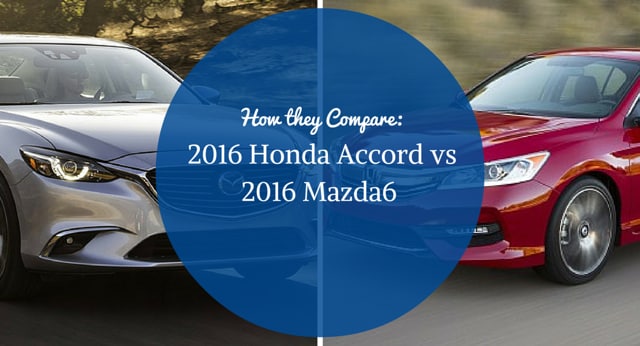 Purchasing a new car is an exciting time. Don't be overwhelmed by how many options there are in today's market. In fact, Gillman Honda in San Benito believes that researching a new car can be fun! Or if anything, researching can be easy. We have compared two very popular 2016 cars for sale in San Benito.
Below we are comparing the 2016 Honda Accord for sale in San Benito and the 2016 Mazda6 for sale in San Benito. We are putting two brands head-to-head to see which vehicle will best fit your life. Check out our findings below!
| | | |
| --- | --- | --- |
|   |  2016 Honda Accord |  2016 Mazda6 |
|  Horsepower |  Up to 278 horsepower |  Up to 185 horsepower |
|  Torque |  Up to 252 lb/ft |  Up to 185 lb/ft |
|  Parking Assistance |  Standard |  Optional |
| Engine Options | 2  |  1 |
|  Apple CarPlay and Android Auto | Standard | N/A  |
The 2016 Accord is the clear frontrunner. Combine the superior available power and torque with the stylish design of the Accord and you've found the perfect vehicle for you and your needs. Obviously, this might leave you wanting to know more about the 2016 Accord. That's where we come in.
The next step is to research from behind the wheel! The 2016 Honda Accord for sale in San Benito is ready for you test drive! Come in and tell our sales experts what you need to compliment your life, and will pair you with a vehicle that will suit you well. Gillman Honda San Benito offers you a large selection and low pricing. We are ready to meet with you!